Snow, sun, ski resorts and trails. You couldn't ask for more!
Ski Resorts
What to do in Ogden Valley says:
"Snowbasin hosted the downhill, combined races, and the super-G events during the 2002 Olympic Winter Games. It boasts nearly 3,000 vertical feet on more than 2,800 acres of terrain. Two high-speed gondolas and 12 other lifts take you to any run you like (you have to hike to back-country ski). The mountain has skiing for all levels with 7% novice, 29% intermediate, 34% expert, and 30% expert only. For added fun there is a superpipe, three terrain parks and a tubing hill. Three lodges provide a place to eat, rest, and socialize before heading back out.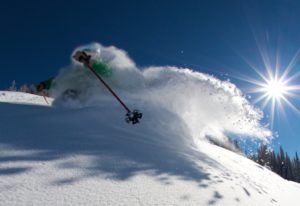 "Powder Mountain, a no-nonsense ski resort. You don't need frills when you have the kind of snow they do. In fact, Powder Mountain was ranked number one for snow and value by Ski Magazine in 2006. I must admit I love the snow at Powder Mountain but I hate the drive up the steep canyon. Luckily, you can park in a lot across from the Eden post office (near Valley Market) and shuttle up. Once there you will be able to ski over 5,500 acres. That is more than any resort in the United States. The mountain has skiing for all abilities with 10% novice, 50% intermediate and 40% expert. No high-speed gondolas or fancy lodges here just plain old skiing. The fun doesn't end when the sun goes down. Powder Mountain lights up for night skiing. If you are looking for extreme sport Powder Mountain also offers snow-kiting.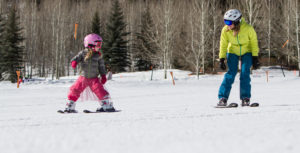 "Nordic Valley (previously called Wolf Mountain).
If you have kids or are a beginning skier this is the place for you. The slope is not too difficult and there is a great terrain park that includes boxes, rails and jumps. All of my kids learned to ski here and we all loved it. On a small mountain with only three lifts, it is impossible to lose your kids. The Magic Carpet is a great asset for the small children and toddlers. Night skiing is also available here. Best of all it is priced right. Especially nice if you have lots of kids. If you don't have skis, you can rent them at the resort."
Nordic Skiing, Cross Country, Snowshoeing
North Fork Park – Ogden Nordic  promoting the sport of cross country skiing with groomed trails for everyone!
What to do in Ogden Valley says:
"Snowbasin also grooms and maintains 26 km of Nordic trails for skate-skiing and classic Nordic skiing.  You will find these trails near the 2nd parking lot.  There is no charge to use these trails. You can choose between the Stadium, the Meadows Loop, or Maples Loop. Maps are available at Snowbasin.  You can choose between 1 to 3.6 miles with 70% easy, 20% moderate, and 10% difficult.  Expect elevation to change from 5,500' to 6,300'."
Snowmobiling
What to do in Ogden Valley says:
"Ranking among Utah Snowmobile Association's top ten, Monte Cristo offers snowmobilers some of the best trails the State has to offer.  Just follow Highway 39 about 15 miles east of Huntsville.  Upon arriving at a parking lot, visitors will notice restrooms, gas, food, and plenty of snow.
Come prepared just in case the gas and food are not available. This is a very popular destination for snowmobilers as the trails are well groomed and the views are spectacular. Much of the 63-mile Curtis Creek/Ant Flat trail is on private property so be sure to stay on the trails.
Sinks Trail offers fun hills to climb, beautiful scenery, and fewer people.
If you decide to take the Ant Flat (K) trail you should end up at or near Hardware Ranch.
Hardware Ranch is owned and operated by the Utah Division of Wildlife Resources. Thousands of Rocky Mountain Elk use this as their winter grounds so please stay on trails.  Once here, you can take sleigh rides out to see the elk.  Amenities include restrooms, hot food, fuel, snowmobile rentals and even overnight cabins for snowmobilers (435-753-6168). Sweet!  Bring cash (Hardware Ranch might not accept credit cards)."